TRI-O
Sergey Letov - leader; soprano and baritone saxophones, bass clarinet, alto flute, flute, swanee whistle
Yury Parfenov - trumpet, althorn
Arcady P. Freeman/Kirichenko - tuba, bass trumpet, vocal (Russia/USA)
Arkady Shilkloper - French horn, jagd-horn, Alphorn
TRI"O" was founded in Moscow in 1985 by Sergey Letov, Arcady Kirichenko (tuba) and Arcady Shilkloper (French horn). The first performance took place at art exhibition of the avant-garde group "21". Alexandr Alexandrov has come in 1989 and Yury Parfionov - in 1992. Originally ensemble has won a recognition among the underground artists - playing at art exhibitions, literary evenings, happenings, modern art festivals, etc.
Since 1986 TRI-O participates in jazz festivals all over ex-USSR, in Poland, Bulgaria, Switzerland, Austria, Germany, Italy. TRI"O" made a lot of tours on jazz clubs of Germany, Austria, Switzerland, Holland, Finland, USA, Ukraine, Uzbekistan, playing at such clubs as "Knitting Factory", "Anyway" (New York), "Bimhuis"(Amsterdam), "Blue Tomato"(Vienna) and Sud des Alpes"(Geneva).
Together with Serguei Kuryokhin and his POP MECHANICS they played at Russia, Italy, Denmark. Together with the Danish guitar player Pierre Dørge and his band NEW EAST-WEST JUNGLE ORCHESTRA they played in Russia, Denmark and Germany. The musicians of TRI"O" realize themselves in different forms of art activities, among them are theater festivals - in Oslo, Yaroslavl, Odessa, - poetry festivals - in Milan and Kostroma, festivals of the avant-garde art in Volgograd and Moscow, festival of Russian Culture in Nice (France), - and also in collaboration with the theaters of Anatoly Vassiliev, Mikhail Mokeev, cinema and TV.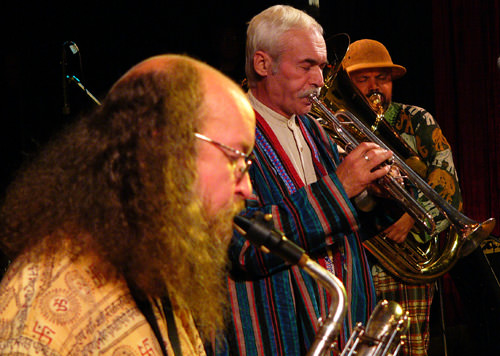 TRI-O: Sergey Letov, Yury Parfenov, Arkady FreeMan (Kirichenko)
Of course, one needn't be an Afro or American derivative to employ the structure, strategies, and freedoms of jazz. [...] particularly provocative small unit - Trio.., led by soprano sax/flute/bass clarinet Sergei Letov.... delved deeply into themselves for motives and vocabularies. They emerge with music based on personal and social experiences, generated by the same faith in spontaneous, self-aware utterance and life's vital pulse that gave rise to the earliest and sustains the newest jazz."
Howard Mandel DOWN BEAT, Sept. 1988
Review on the CD "Forgotten Streets of St. Petersburg. Tri-O & Sainkho" Leo Records - in ALL ABOUT JAZZ by Francesca Odilia Bellino
TriO & Sainkho - "Forgotten Streets of St. Petersburg " - [Leo Record] Reviewed by Thurston Hunger on February 8, 2007
THREE HOLES. Modern music ensemble 'Three"O"'. Melodia (USSR) C60-28461, 1989 LP

LENINGRAD JAZZ INTERNATIONAL'89. Melodia C60-30587,1990 LP

DOCUMENT. New Music from Russia. Leo Records (England) CD LR 805

CONSPIRACY. Zurich 1989. Leo Records CD LR 810

TRIALOGUE. SoLyd Records SLR 0031 (Russia)

TRI-O and single D.A. Prigov HOR Records HCD 056a

TriO and Sainkho
Forgotten Streets of St. Petersburg
Leo Records CD LR 439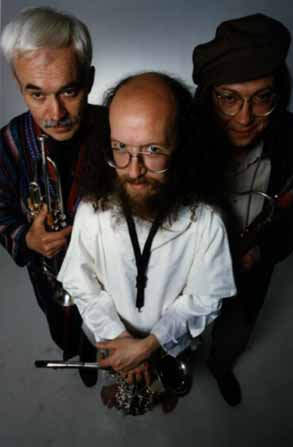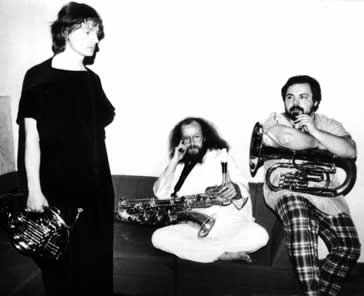 NEXT CONCERTS
September ?, 2023 8 pm Moscow. Art Gallery TRI-O: Yury Parfenov - trumpet, Alexandr Alexandrov - bassoon, Sergey Letov - baritone and soprano saxophones, flute
August 31, 2011 22.00 - 23.00 TRI-O at NOSTALGIA TV (Russia)